Mystery Shopper has come from India to pursue her Masters in the UK, and is looking to buy a new phone and SIM which will also allow her to make international calls. She was pleased to find out about promotional deals for the new Google Pixel 7 and then checked which provider could offer her the best.
Location: Hampstead
1st Place: O2
Product Range: 5   Product Knowledge: 5   Value Knowledge: 5   Questioning Ability: 5
Sales Ability: 5   Shop Appearance: 4   Score: 29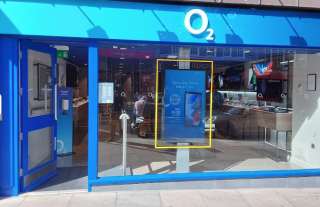 O2 stole the show this edition. The store was busy and every sales assistant was attending to a customer. I had to wait for a good ten minutes, but was approached by a very chirpy and cheerful salesman.
He greeted me and asked me how could he help me and I told him I was looking for a new phone and SIM deal as I just arrived in the UK few months ago and was also looking for making calls to India. He then asked me which phone am I interested in and since the new Google Pixel 7 was out, I thought I'll inquire about the phone. He instantly told me that it was a brilliant choice as the phone had promotional offers going on.
He went on to give me a little background about the phone like the release date, a few specs and also told me he would pre-order it for me if I was happy with the deal he was offering.
As he was checking for deals on the system he was talking to me about the reviews of the Google Pixel 7 and made small talk to avoid awkward silences. This made the conversation free-flowing and easy.
He then made me select the storage and data and I opted for 128GB storage and 20GB of data. He offered me tariff of 30GB data with unlimited calls and texts for £18.99 and £3 for international calling. However, since the phone was offering promotional offers, I didn't have to pay that £3. He still warned me that the calling wouldn't be free but I would be charged a minimum of 4p per minute.
He then filled me in about the insurance options and offered me a three year warranty as part of the promotional tariff. I was also told the phone was interest free and I could switch to a new phone within three months.
After asking me to cap my spending towards the phone, he gave me a breakdown of how much I would be spending for the data package and the device and it amounted to £70 per month. Even though it was on the higher side, it seemed like a fair deal to me because it included a extra perks like cheap international calls, three year warranty and many others
Overall my experience at O2 was a very pleasant one, the sales assistant was knowledgable, informative and had a friendly approach. I felt well-informed about the tariffs offered and even though he asked me if I wanted to go ahead with the pre-order, he wasn't forceful.
2nd Place: Vodafone
Product Range: 5   Product Knowledge: 4   Value Knowledge: 5   Questioning Ability: 4
Sales Ability: 3   Shop Appearance: 4   Score: 25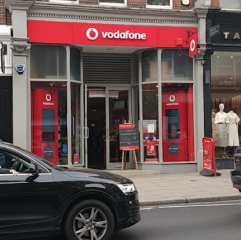 Coming in second place is Vodafone. As I entered the store I was instantly greeted by a sales assistant and he asked me what was I looking for.
I told her I wanted to buy a new phone and SIM and I'm looking for affordable deals. He asked me what model I was looking for, how much data per month and if I was a Vodafone user. I told him I was looking to switch from Lyca to O2 and opted for the same Google Pixel 7.
He then went on to his system to search for affordable tariffs, and while he was looking for deals, he suggested I buy the phone directly from Google or any online website like Amazon, and just take a SIM only deal, as I would end up paying more if I chose a device and SIM plan. I liked how transparent he was about this information, and was considerate about my spendings as I told him I was a student.
He then told me that the retail cost of any phone would be split into three to six months at zero per cent interest and over that select an airtime package, which makes the combine deal expensive. He then gave me a breakdown of the tariff which came up to £24 for the device on a two year contract, £23 for 25GB of data bringing my total to £47 per month. Additionally I would have to pay £5 for 100 minutes or £10 for 500 minutes of international calling and an upfront of £30. This tariff was cheaper than O2, but the sales assistant told me if I went for the SIM only deal I would get 60GB of data for £18, which would be so much cheaper. I liked how he made me think economically.
He also mentioned that if I wanted to look for a phone which was as good as the Google Pixel 7, he suggested I go for the Samsung Galaxy S22 as it was on sale on Amazon and I could get the SIM plan from Vodafone.
At Vodafone I felt like all my needs were taken care of. The sales assistant didn't force me to take deals that would benefit him, but gave me ways to get more benefits for a lesser price.
3rd Place: Three
Product Range: 3   Product Knowledge: 3   Value Knowledge: 2   Questioning Ability: 2
Sales Ability: 2   Shop Appearance: 2   Score: 14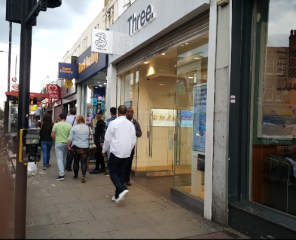 Coming a couple of points behind Vodafone was Three. When I entered the busy store, it took a while before I was approached by the sales manager. He asked me if I needed any help, and I went ahead and told him that I'm looking for a device and SIM plan and as I have just arrived from India, I need international calling as well.
After hearing my request he asked me what phone I was looking for and I told him the new Google Pixel 7. Just like all other providers he too asked me if I had a bank account so that relevant background checks can be done.
He then looked up tariffs without asking me how much data and storage I would need, and just before I could tell him, he came up with a price of £48 per month, not mentioning what would be included in it. I then asked him the cost for international calls and how much of data would I get paying £48, he told me it would be unlimited data and £10 for unlimited international calls.
Though the deal was a good one, he showed no interest in drilling down to the details of the plans. He did not mention how much upfront cost I would have to pay and how much of the money would go towards my device and data plan and the length of the contract.
Our conversation lasted for just four minutes in total. Being a manager he had no intention in making me pursue this deal further and was laid back.
All in all, though I was being offered unlimited data and unlimited international calls for £10, there were so many questions unanswered. There was zero effort from the manager to give me clear information about the tariff he offered.
EE: 4th place
Product Range: 3   Product Knowledge: 1   Value Knowledge: 2   Questioning Ability: 2
Sales Ability: 1   Shop Appearance: 3   Score: 12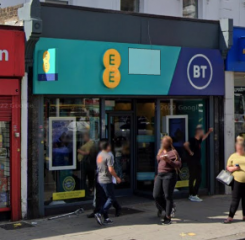 Fourth place this issue belongs to EE. All the stores I visited were busy, but EE was the busiest of them all. I had to wait for almost ten minutes before I was approached. The sales assistant was laid back as well. He asked me what I was looking for and when I told him I was looking to buy the new Google Pixel 7 and a SIM plan with international calling, he straight went on to his system, without asking me how much data and storage I needed.
After sometime, he asked me if I was looking for the Google pixel 6, but I told him it was the Google Pixel 7. He then told me that the 7 pro was the new one and not the 7 and that showed he was not aware about the latest release.
He then showed me his tablet and randomly started reading numbers from it, not explaining what they meant and whether he was showing me costs for the device only or the airtime plan.
I was confused and asked him to tell me how much would I be charged for the phone and SIM together, he again just showed me a couple of numbers on his tab. After asking him again about my monthly spendings towards the phone and SIM, he said it would start from £57 for 10GB data, which was so expensive compared to the other deals.
He did not bother breaking down the costs and explaining the deals well. The store was quite busy with customers lined up waiting to be attended, so I'm not sure if they were willing to give proper time to address people's queries.