Research showed 42 per cent of respondents expect to financially struggle during the crisis and 29 per cent have turned to the internet to help them save money
Vodafone has launched what it's claiming to be the most affordable social broadband tariff on the market- for just £12 a month.
Research with Vodafone and YouGov reveal that a million working families could be on the wrong side of the digital divide due to cost of living and that families could lose £286 per month without access to the best prices and deals online.
In response, Vodafone has launched its £12 a month social broadband plan along with one-year free broadband for UK small businesses.
Vodafone Essentials Broadband is available to those on Job Seekers Allowance, Universal Credit, Employment and Support Allowance, Disability Allowance or Personal Independence Payment.
These customers won't have to pay a set up fee and can leave at any time. They will have access to Vodafone's Fibre 1 or Full Fibre 1 Essentials Broadband plan for 12 months with average download speeds of 38Mbps.
Small business owners can also access free business-grade broadband for 12 months on a 24-month plan.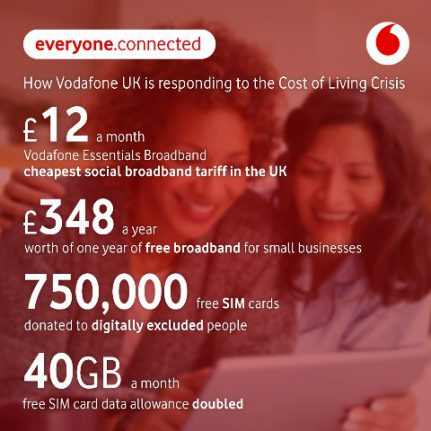 Ahmed Essam, Vodafone's UK CEO, said: "The rising cost of living is putting a million families at risk of falling on the wrong side of the digital divide. We must not allow this to happen.
"So as part of our everyone.connected programme, today we are launching Vodafone Essentials Broadband at just £12 a month, the cheapest on the market, and 12 months free broadband for small businesses.
"Vodafone is the only network provider to offer social tariffs across fixed and mobile, meaning eligible customers can access mobile and broadband connectivity for 72p a day.
"These new tariffs complement VOXI for Now and the 750,000 free SIMS we've donated so far as part of our everyone.connected programme. We're on track to meet our commitment to donate a million connections by the end of this year and will continue to put the cause at the heart of our business until the problem no longer exists."